HOBBIES
By Bob Gray
September 2016
I guess I have always had a hobby of one sort or another.  The picture below was taken when I was about 11 years old.  It is my bedroom when we lived at 420 West Seventh Street, Erie, Pennsylvania.  We moved from this house in the summer before I started junior high at Gridley.  As you can see from the photo, I had a collection of models that included:
<![if !supportLists]>· <![endif]>World War I bi-planes hanging from the ceiling (my favorite),
<![if !supportLists]>· <![endif]>Air and space craft, such as the ill fated Vanguard rocket and early space station,
<![if !supportLists]>· <![endif]>The United Nations Building,
<![if !supportLists]>· <![endif]>Medieval knights in armor,
<![if !supportLists]>· <![endif]>Cars,
<![if !supportLists]>· <![endif]>Sailing ship,
<![if !supportLists]>· <![endif]>Dinosaur skeletons, and
<![if !supportLists]>· <![endif]>Military vehicles (tanks, trucks, cannons).
On the workbench next to me is a balsa wood airplane with gas powered engine that was one of my major modeling disappointments as I could never get the engine to run long enough to actually fly it.  It met its end about the time we moved out of the house when I put an M80 firecracker in it and through it out my bedroom window.  Given the volume of models present in my room, I must have doing models for several years at that time.
<![if !vml]>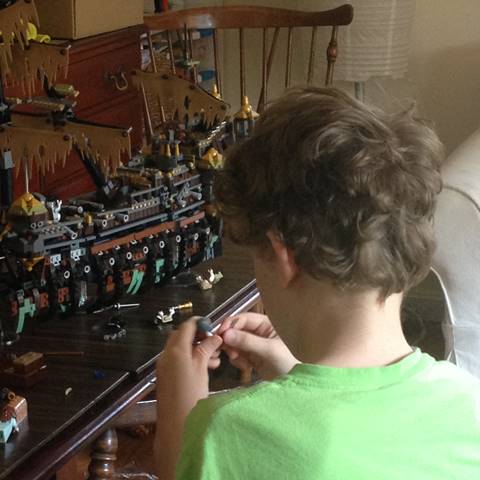 <![endif]>
Me at work on one of my early hobbies, c 1958.
My others hobbies from this period included building, pushing and driving a soap box racer (I won't refer to it as a derby racer as we never entered the official contest) and archery.  My friends, Bummy Dudenheffer and John Kelly, and I built the racer from a set of wheels that my mother must have obtained at a house sale and old crates from the nearby A&P Grocery store.  Our favorite destination was the hill at the foot of Myrtle or Sassafras streets which ended at the fish hatchery after going over some railroad tracks.  This activity usually ended with a broken racer and subsequent repairs.  The Bayfront Parkway now resides where the railroad tracks used to be, so now it isn't possible to do what we did back in the 1950s.
Hobbies I have had later in life, in addition to my genealogy and family history endeavors, include:
Bridge and other card games – My father was always playing cards when I was young.

 

His favorite most likely was Bridge Cribbage had to be a close second.

 

If we had more than two people but not four Bridge players, then we usually played Pitch which is Bridge like.

 

When I first met my wife, Mary-Alice, she decided to take Bridge lessons.

 

At one point, we were playing Bridge every Friday night at the local pool we belonged to.

 

We still play, only not as often.
Ham radio – I was K3YNA when I was in High School and College.

 

I was never very good but my friends were.

 

Actually, I was much better at building ham equipment that using it.

 

I built a receiver from a H

allicrafters

kit, a

100 watt

transmitter, and a variable frequency oscillator.

 

These were all tube electronics as transistors were just coming into use.

 

I was secretary of the local amateur radio club for a couple of years.

 

Probably the most fun was spending a night in the field contacting as many other hams as possible.

 

One of the other benefits was that the late night engineer for the local radio station, WJET, was a ham so we used to go sit with him and take call-in requests.
Tennis – I started playing in college when my friend, Rafael Castro, got me interested.

 

I wasn't very good but I had fun and continued playing after college for a couple of years.

 

There were public tennis courts across the street from my apartment in Alexandria and I used to play on Saturday and Sunday mornings with my roommate, Tom Noon or co-worker Jim Loftus.
Sailing – A

long time

favorite.
Travel – A last in, first out coverage of my travel over the years
Hobbies to be included in future updates of this page

Cars
House projects
Blues
Theater
Home (Including Site Search) | Bob Gray Consulting | Lynch Gray family history | Genealogy
Copyright 2016, Robert F Gray