Lydia L All
Born: 1828, New York
Marriage: Chester Granger in 1872
Died: 1897, Michigan at age 69

Noted events in her life were:
• Children: Chester Grainger's death certificate indicates he was the father of five children, two of them are alive in 1899.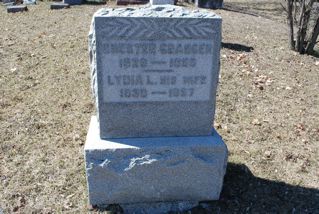 • Gravestone: From Find a Grave, 1897, Dansville, Ingham, Michigan. Lydia L Granger

Birth: 1830
New York, USA
Death: 1897
White Oak
Ingham County
Michigan, USA

d/o John & Cornelia All

Child not located:
Ethel b. 1872

Family links:
Spouse:
Chester Granger (1829 - 1899)*

Children:
Edgar E Granger (1857 - 1947)*

*Calculated relationship

Inscription:
"Chester Granger / 1829 - 1899 // Lydia L. his wife / 1830 - 1897"

Burial:
Fairview Cemetery
Dansville
Ingham County
Michigan, USA
Plot: Sec 3B Lot #361 Row 21

Created by: DTQuester
Record added: Mar 10, 2010
Find A Grave Memorial# 49527465
Lydia married Chester Granger, son of Pierce Granger and Elizabeth (Betsy) Beckwith, in 1872. (Chester Granger was born in 1829 in New York and died on 17 Sep 1899 in White Oak, Ingham, Michigan.)

Noted events in their marriage were:
• Marriage: From Chester's death certificate.