Mary Elizabeth Lynch
Born: 3 Feb 1917, Erie, Erie, Pennsylvania, USA
Marriage: Robert Beckwith Gray on 17 Jan 1942 in Erie, Erie, Pennsylvania, USA
Died: 16 Feb 2010, Erie, Erie, Pennsylvania, USA at age 93

Noted events in her life were: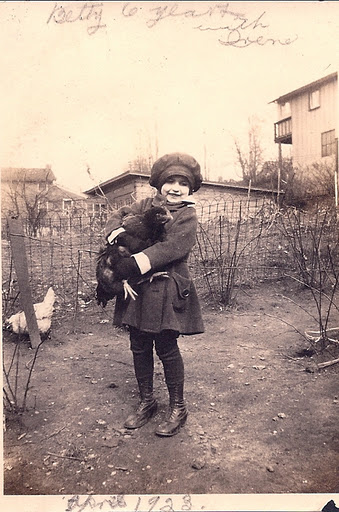 • Residence: 217 East Eighth Street, 1920, Erie, Erie, Pennsylvania, USA. From 1920 Census

She talked about how they had chickens when she was young.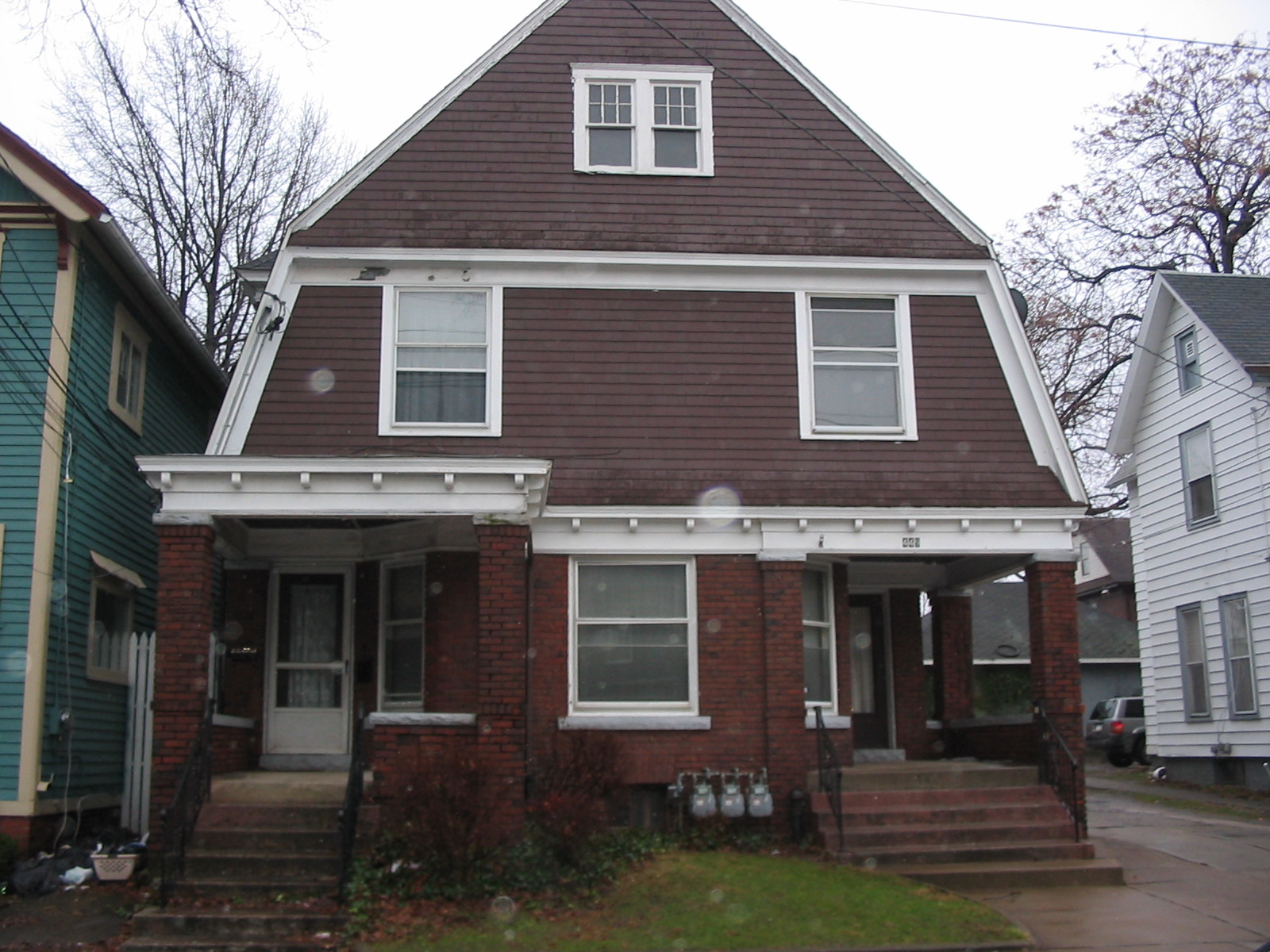 • Residence: 447 West Seventh Street, Cir 1930, Erie, Erie, Pennsylvania, USA.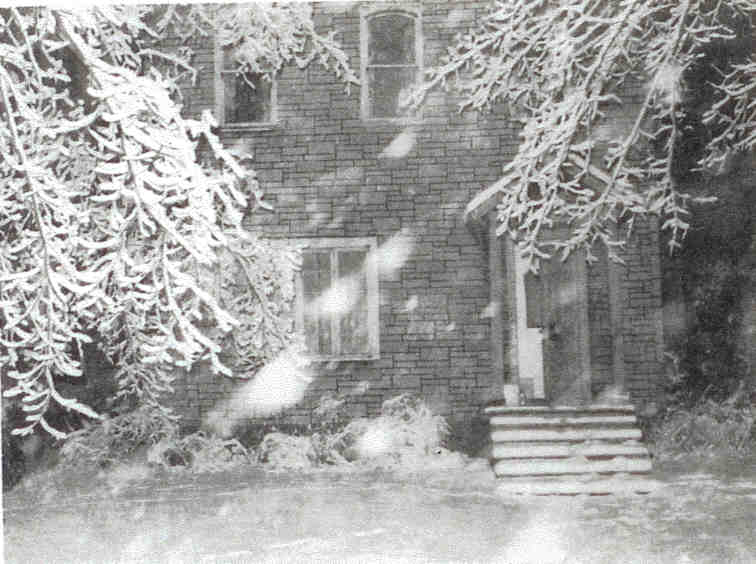 • Residence: 420 West Seventh Street, Between 1945 and 1960, Erie, Erie, Pennsylvania, USA. Her mother put a deposit on this house and told her she had to buy it, otherwise her mother would loose the deposit. It was across the street about half a block from her mother's house.
• Residence: 807 West Ninth Street, Between 1960 and 1975, Erie, Erie, Pennsylvania, USA.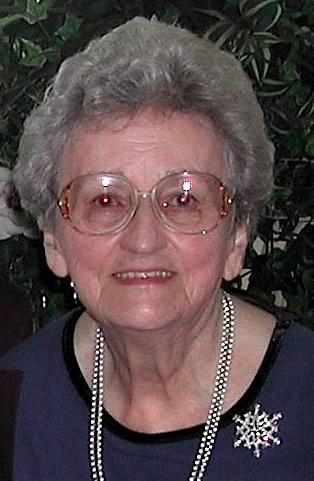 • Obituary: Erie Times-News, Sunday, Page 7B, 21 Feb 2010, Erie, Erie, Pennsylvania, USA. Mary Elizabeth Lynch "Betty" Gray

Mary Elizabeth (Betty) Lynch Gray, age 93, died Tuesday February 16, 2010 at the Sarah Reed Retirement Center. She was born in Erie on February 3, 1917 the daughter of the late Frank E. and Jennie O'Brien Lynch. She was a 1935 graduate of Strong Vincent High School and received a B.S. degree from Villa Maria College in 1939 and her Masters from the University of Pittsburgh in 1941. In addition to her parents, she was preceded in death by her husband Robert B. Gray whom she married on January 17, 1942; a son William E. Gray and two grandsons, William R. Gray and Cpl. Robert E. Gray, USMC. Betty is survived by a daughter Rebecca Fluegel and her husband Larry of Erie and three sons, Robert F. Gray and his wife Mary Alice of Arlington, Va.; Thomas O'Brien Gray of Erie, and Barry Gray and his wife Christine Troutman also of Erie. She is the grandmother of Patrick, Justin, Andrew, Mark and Abigail Fluegel; Meghan and Tyler Gray, and Julie Gray. Betty is also survived by three great-grandsons; a daughter in-law, Elaine Gray, and a sister Frances Eileen Lynch, both of Erie. Private funeral services were held with burial in Mary Queen of Peace Cemetery. In lieu of flowers, memorials may be made to the Robert B. Gray Scholarship Fund, c/o Erie Community Foundation, 459 West 6th St., Erie, PA 16507. Arrangements by the John J. Quinn Funeral Home, West 9th & Liberty St.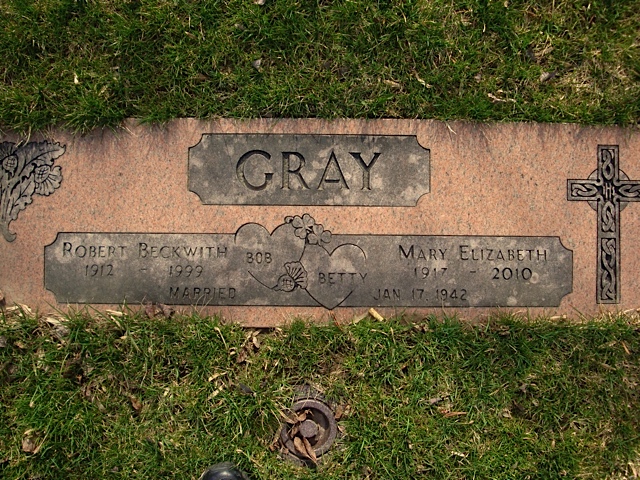 • Gravestone: Our Lady of Peace Cemetery, 2010, Erie, Erie, Pennsylvania, USA.
Mary married Robert Beckwith Gray, son of Edward Townsend Gray and Sarah Jean Lomison, on 17 Jan 1942 in Erie, Erie, Pennsylvania, USA. (Robert Beckwith Gray was born on 9 Apr 1912 in Johnstown, , Pennsylvania, USA and died on 8 Jun 1999 in Erie, Erie, Pennsylvania, USA.)

Noted events in their marriage were: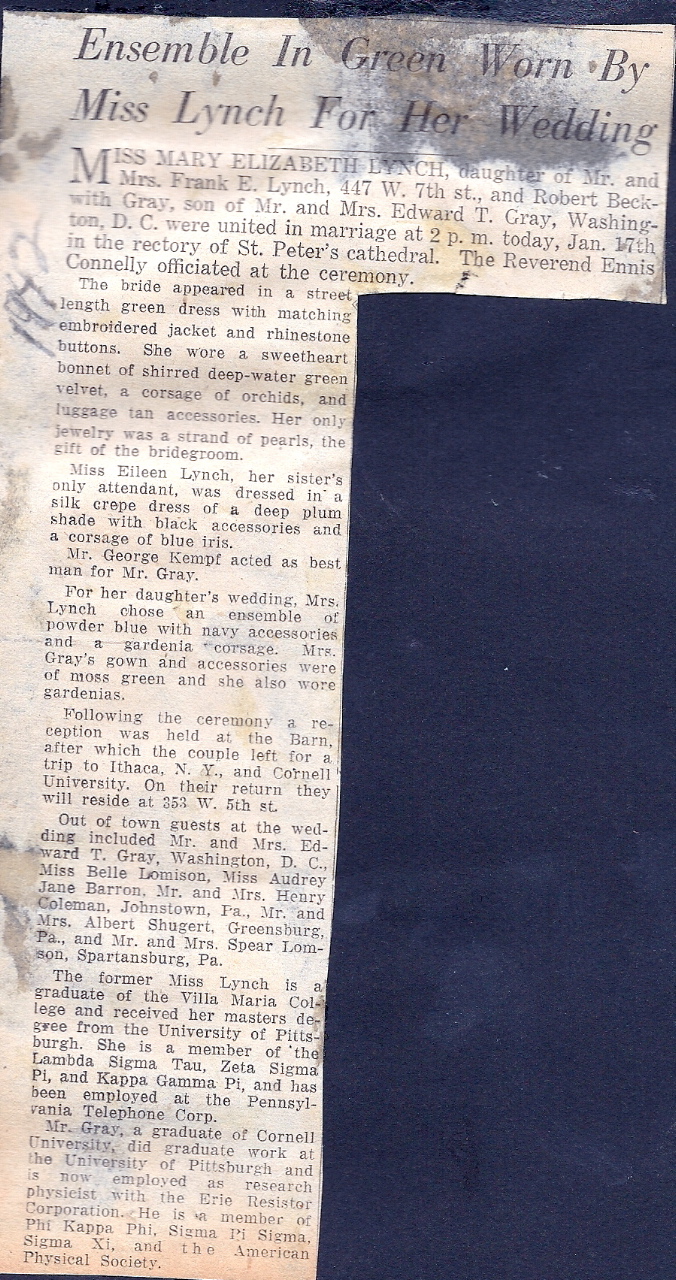 • Marriage License: From Family Search org, 17 Jan 1942, Erie, Erie, Pennsylvania, USA. Robert B. Gray
Titles & Terms:
Event: Marriage
Event Date: 17-Jan-42
Event Place: Erie, Erie, Pennsylvania
Age: 29
Estimated Birth Year: 1913
Father: Edward T. Gray
Father's Titles & Terms:
Mother: Sarah J. Lomison Gray
Mother's Titles & Terms:
Spouse: Mary E. Lynch
Spouse's Titles & Terms:
Spouse's Age: 24
Spouse's Estimated Birth Year: 1918
Spouse's Father: Frank E. Lynch
Spouse's Father's Titles & Terms:
Spouse's Mother: Mary J. O'Brien Lynch
Spouse's Mother's Titles & Terms:
Reference Number: p 18
Film Number: 2260335
Digital Folder Number: 4480651
Image Number: 265